Since we were going to have such a short time in Moscow, Andrea set us up with a walking tour that featured the "Moscow must-sees". We spent most of the day Monday on this tour, getting to know all sorts of great stuff about Moscow.
We met our tour guide, Milana, in the lobby of our hotel off of Arbat Street. From there we boarded the Metro and headed off to Red Square.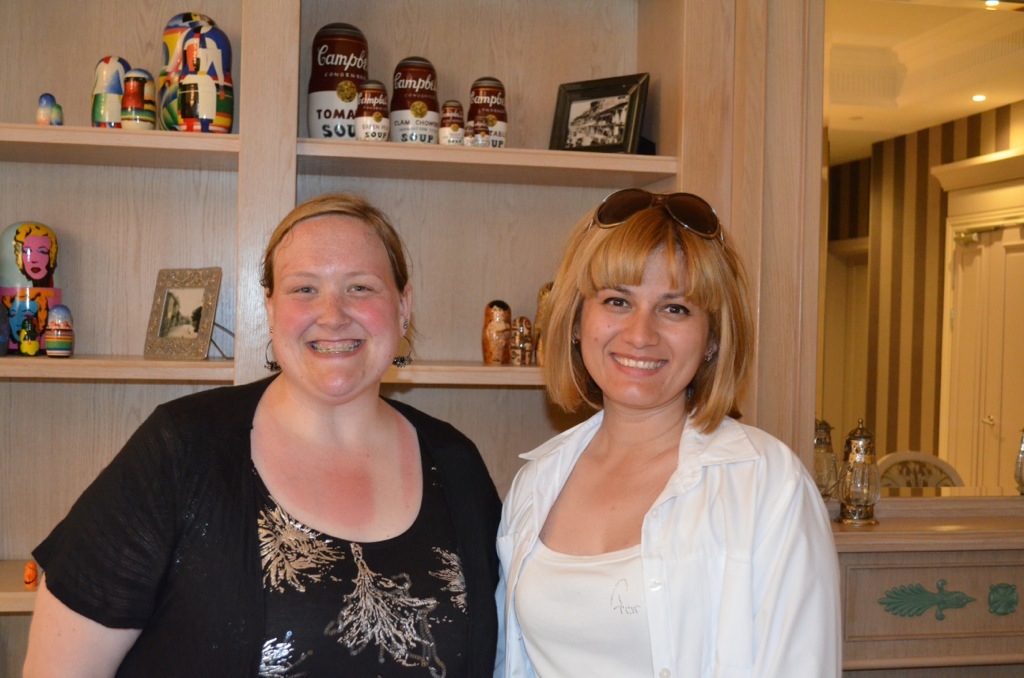 Andrea with our guide Milana
Red Square got its name not from the color of the bricks in it, but from the old Russian word for "beautiful". It's often considered to be the center if Moscow, as many of the major streets originate from here. It also has a number of important and famous buildings surrounding it; St. Basil's Cathedral is on the southern edge, the Kremlin is on the west side, the State Historical Museum is to the north, and the GUM (pronounced "goom") Department Store and Kazan Cathedral are on the east.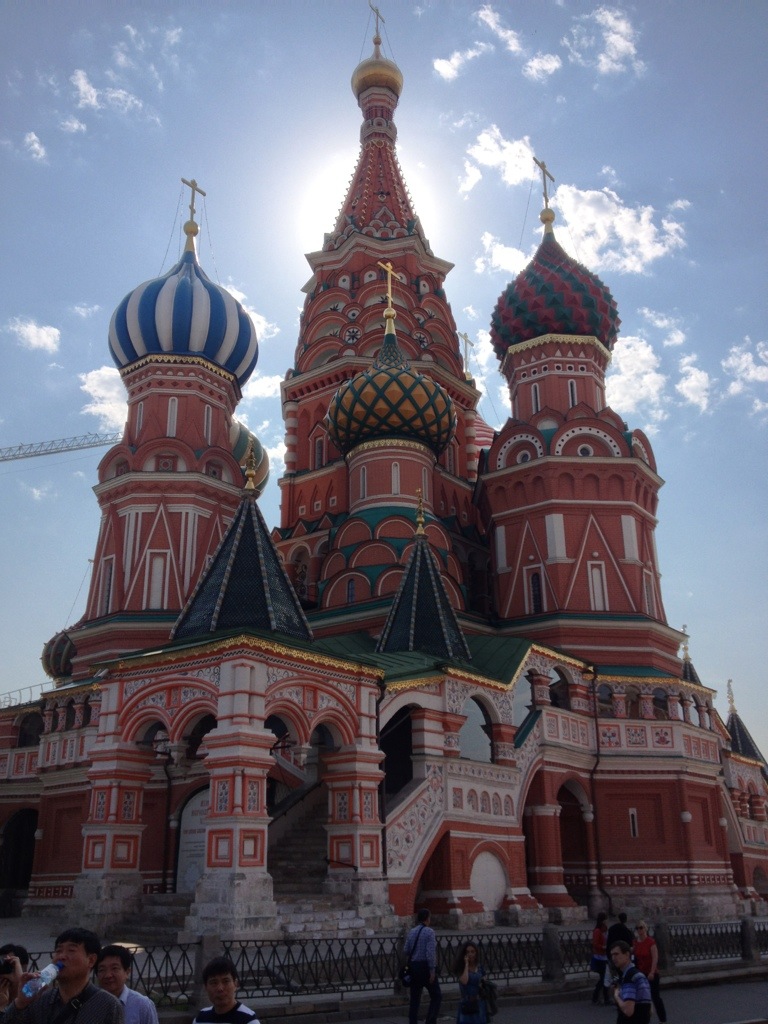 St. Basil s Cathedral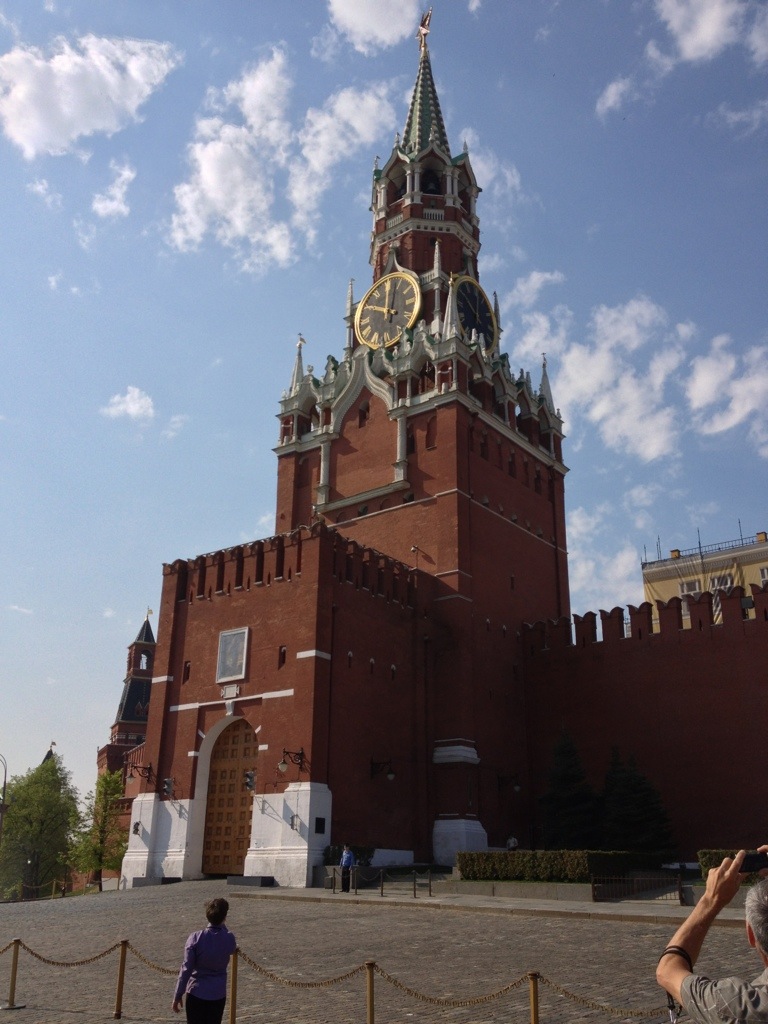 Spasskaya Tower at the Kremlin

State Historical Museum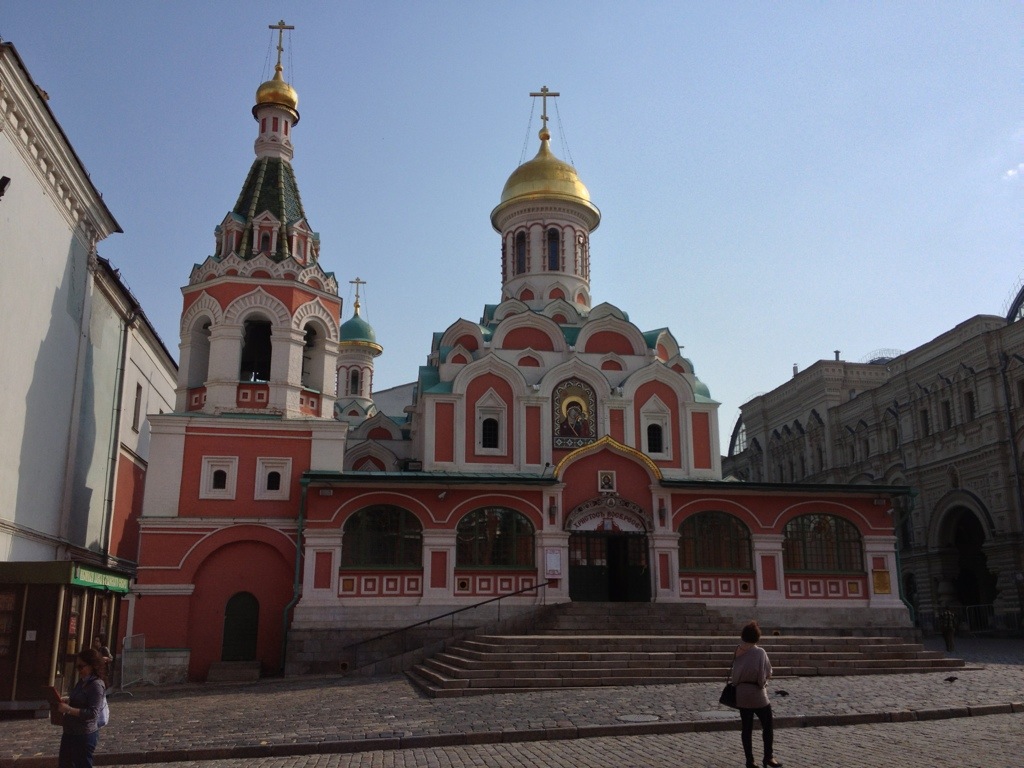 Kazan Cathedral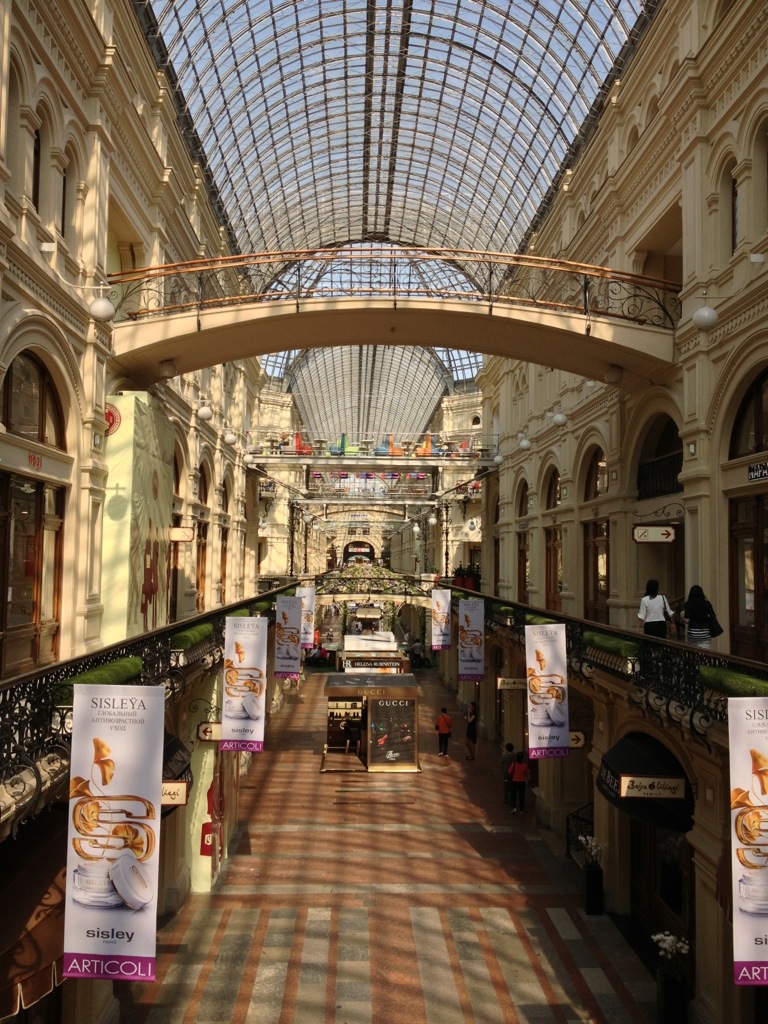 Interior of the GUM Department Store
After Red Square, we made our way to the Cathedral of Christ the Savior, which is the tallest Orthodox Christian church in the world. It was originally built in the late 1800′s but was torn down during Stalin's regime. After Communism fell, the cathedral was rebuilt, with construction finishing in 2000.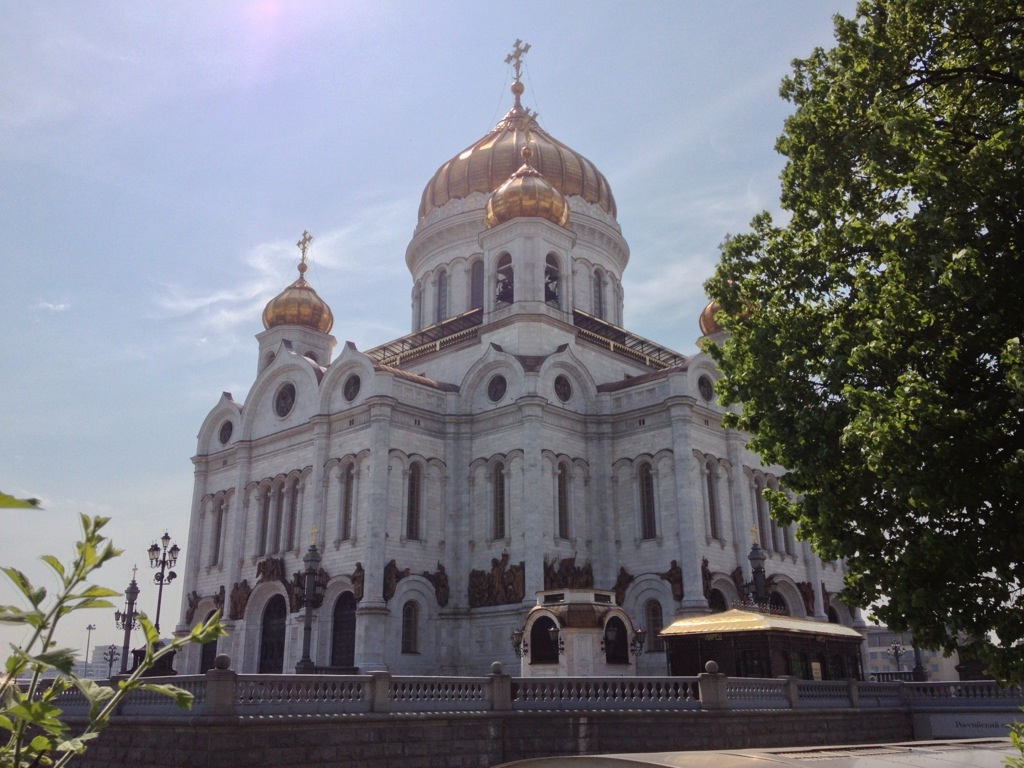 After the cathedral, we walked out to a bridge crossing the Moscow River. Upstream we could see a huge statue of a giant man standing in an old sailing ship. It's over 300 feet tall, and is considered by many to be the ugliest statue in the world.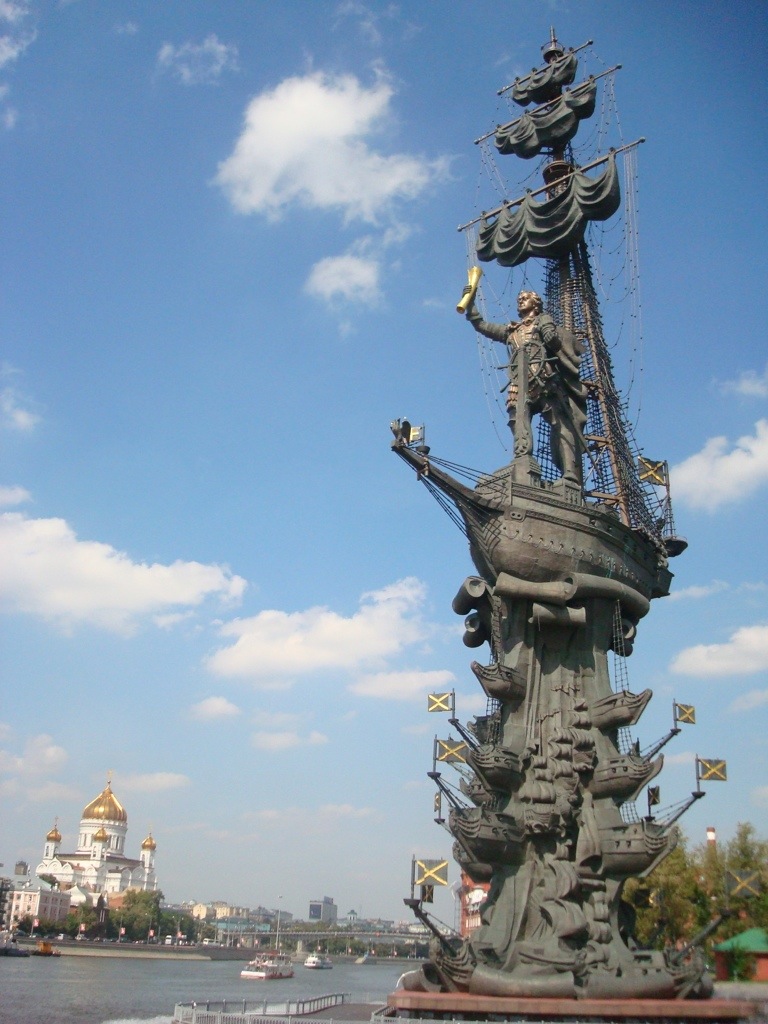 This statue is supposed to represent Peter the Great, who was the czar who created the Russian navy. However, having a statue of Peter the Great in Moscow is puzzling, as Muscovites hate Peter (he moved the capital from Moscow to St. Petersburg). It turns out that the sculptor had originally made this a statue of Christopher Columbus and wanted to sell it to the U.S. However, no one wanted it because it's so ugly, and so he replaced Columbus's head with Peter's and convinced the mayor of Moscow (a buddy of his) to put it down by the river. Residents here hate the thing and are trying to get the city to give it to St. Petersburg, but even they don't want it! Talk about an ugly statue!
Next we went on a tour of the Moscow subway system. This might sound like a weird thing to do, but Moscow is known to have the most beautiful metro stations in the world. Most of them were built during Stalin's rule of the country. Instead of having artwork in museums and in the homes of rich people, the Communists decided to put it into the subway stations where all of the people could see it. There are murals, statues, mosaics, stained glass, and many other pieces of artwork in most of the stations. Andrea took a bunch of photos and will probably post them later, but here's one of the mosaics I took a picture if (sorry that it's a little blurry).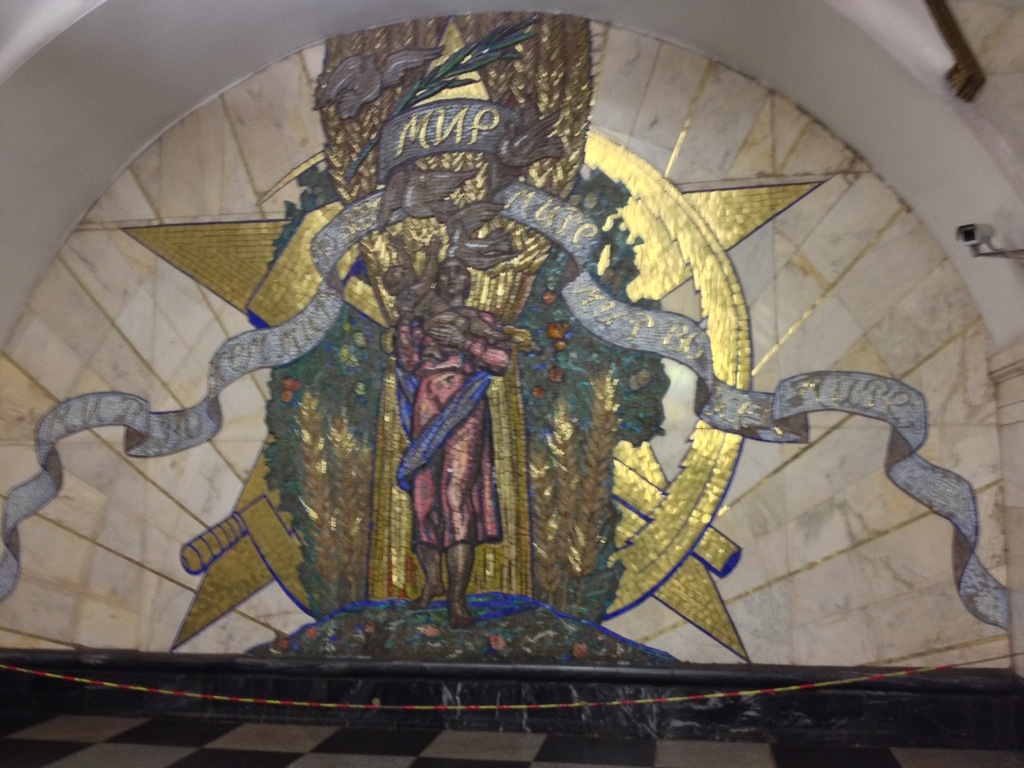 For lunch we went to a restaurant called Korchma Taras Bulba, which is known for its traditional Russian and Ukranian food. We ordered a few different items to share, as we hadn't had Russian food before and weren't sure if we would like it. We had nothing to fear, though, as everything was really delicious! If you're ever in Moscow and want to try traditional food, this is a great option.
| | |
| --- | --- |
| Solyanka – a traditional soup | Chicken Kiev |
| Vegetable Dumplings | Cabbage Rolls |
After lunch we stopped by what has to be the fanciest grocery store I've ever seen. They wouldn't let us take pictures, but there were giant chandeliers, shelves made of solid wood, old paintings hanging on the walls, and elaborate, ornate design on the walls and ceilings.
We closed out our tour with a walk down old Arbat Street. Arbat Street is one of the oldest streets in Moscow. Once the home of nobles, artists, and important politicians, it is now a haven for tourists and souvenir shops.
Andrea and I both felt like we learned about Moscow during this tour. Thanks Milana for the impressive tour!